23.8.2018. The newest survey on female genital mutilation (FGM) in Oman bears shocking results: 95,5 percent of women reported to be mutilated. For the survey 200 women of different ages and educational backgrounds were interviewed in the governorate of Dakhiliyah during the last three months of 2017.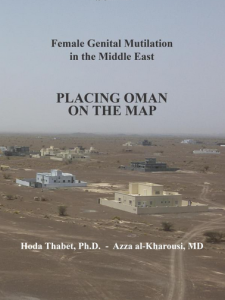 The authors Hoda Thabet and Azza Al Kharousi have choosen the title "Placing Oman on the map" for their study. Indeed, Oman yet needs to be placed on the UN map of countries where FGM is practiced – it is since long on the map of Stop FGM Middle East and by now, also on those of many other NGOs working in the field. However, placing Oman on the UN map is the first and very needed step to start discussing with the Omani government how this human rights violation can be stopped.
The new study shows again how urgently action is needed. The prevalence in the Dakhiliya governorate is apparently significantly higher than in the capital of Muscat, where Habiba Al Hinai conducted a study in 2013 and found 78 percent of interviewed women to be mutilated – a result which shocked most observers already then. Previously, it was believed that FGM only existed in the Southern governorate of Dhofar.
Speaking to one of the new study's authors, Hoda Thabet, she reveals that the brutal practice may well have been executed on almost 100 percent of women from the Dakhiliyah. Only five out of 200 women had reported that they were not cut, four of these five were not of Omani origin or had Zanzibari roots – decendents of those Omanis who had colonized the island Zansibar but were expelled in the aftermath of the Zansibar revolution in 1964.
All other women in the study reported be be cut or didn't answer the question, possibly not knowing their condition.
No change in attitudes
Further more, willingness to stop the practice is almost non-existent. 86 percent of the women interviewed declared that they would have their daughters cut or had already done so. There was no difference between older and younger women in reference to this question. Women with a university degree did report more frequently that they would not cut their daughter, however, the majority of educated women endorsed the practice.
A majority of women did not know what type of FGM had been done to them. This is also a difference to the study done in the capital where many women interviewed believed they had undergone "Sunna" circumcision (often interpreted as the cutting of the skin on the clitoris, in reality usually a type I FGM/ excision of clitoris).
From studies in other countries, it is known that women who believe a Sunna circumcision was done to them had sometimes undergone much more severe amputations. However, there is a likelihood that societies practicing Sunna circumcision practice FGM type I or type IV (in the form of nicking or pricking).
In the Dakhiliyah, no such assumption can be made. Generally, little is known about the actual practice in Oman. On a field trip to Dhofar in 2013, the Stop FGM Middle East team learned that more than a centimeter may be cut from babies only eight weeks old.
Fear to raise the topic
The whole topic remains a taboo in society. As Azza Al Kharousi writes in the study: "It was easy to talk about FGM/C to women from the younger generation, but many elderly women aged 60 and onwards refused talking about this topic…. One woman who was in her 70s started shouting in anger…"
But not only average women don't talk about it. Even doctors shy away from the topic as the Stop FGM Middle East team experienced on the field trip in 2013. In one hospital, no doctor was willing to talk to us. As we insisted, the head of department gave an administrative employee permission to talk to us on the basis that we don't mention his name.
People are afraid of society but also fear the government. Activists told us that any discussion on FGM is censored in Arabic forums, only on English language websites and forums for Omanis and Expats the issue may be raised.
Government is ambivalent
The state of Sultan Qaboos tends to react very sensitive when people discuss anything related to religion. And female genital mutilation is closely related to religion in Oman – the majority of women say they cut their daughters for religious reasons: In the new study 72,5 percent call it a religious practice, while in the earlier study 53 percent believed FGM must be done in accordance with Islam.
Yet, the state is not in favor of the practice either. It takes an ambivalent stand. Hospitals are banned from delivering "the service", but there is no education or awareness raising of any sorts.
As Al Kharousi, a practicing doctor herself, points out in the book: "Female genital mutilation / cutting is not taught in the college of Medicine in Sultan Qaboos university. From the day the college was established in 1986 until our present-day, FGM/C is not been included in the study programs and the students do not receive any formal training or education on this subject. During those years that female circumcision was permitted by the government to be performed in Oman's health clinics, the health practitioners were not trained to perform the cutting."
Thus, doctors are left in the dark about what to do in case of complications. While there are specialists in many golf countries such as Saudi Arabia and Kuwait who can treat the severe consequences of FGM and who know what to do in case of delivery (giving birth is particularly dangerous for cut women), Omani women are left with no appropriate health care for a problem which seems to effect almost every woman in certain communities.
These should be enough reasons to act for UN bodies such as Unicef, UNFPA and UN Women. They are aware of the prevalence of FGM in Oman and have promised in many talks with Stop FGM Middle East and Wadi that they would work with the Omani government on how to tackle the problem.
Stop FGM Middle East contacted representatives of the Unicef-UNFPA joint-program on female genital mutilation / cutting two weeks ago and asked them to comment on the new study from Oman. They seemed not aware of the study and unfortunately, did not have the time to look into the issue until now. Once they decide to reply, we will post their comment.
---
What we know about Oman so far:
The study by Habiba Al Hinai found a prevalence of more than 90 percent in the Sharqiyah (North and South), the Dakhiliyah and more than 80 percent in the Batina – her samples in reference to origin being small though. Women from Buraima and Al Wusta were not interviewed in her study, only five came from the Dhahirah of which two reported to be cut – in total a too small number to draw any conclusion.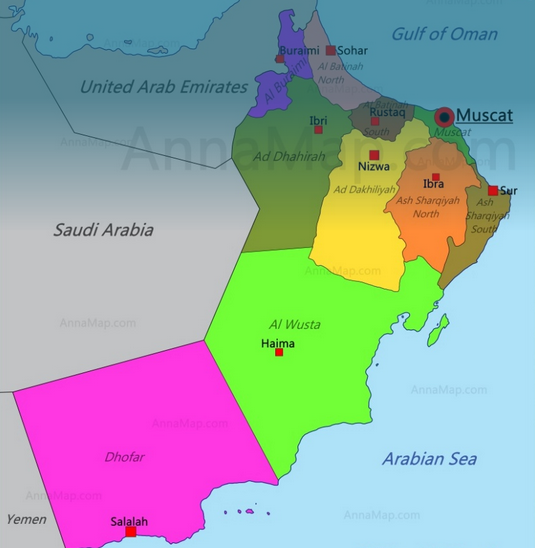 The study "Placing Oman on the Map" substantiates the findings about the Dhahiliyah with even more alarming numbers of cut women of 95,5 percent or 99 percent of those originating from the region.
In the very Southern region of Dhofar, most likely more than 90 percent of women have undergone FGM. No study was done, but people from there report that almost no escape from the practice is possible.
Only women originating from the capital of Muscat, seem to be less affected with only a bit more than half of the respondents saying they were cut.
These findings are inline with earlier studies. A study on attitudes of adolescents in 2006 by Y.A. Jaffer and others showed that 80 percent of both sexes support female genital cutting. Another regional study showed that the percentage of circumcised Omani female children (less than 3 years) was 100 percent in some willayats (communities).
Thus, it can be assumed that Oman is among those countries with the highest prevalence of FGM in the world, defined by the UN as above 80 percent, along with Egypt, Sudan, Eritrea, Somalia, Mali, Guinea and Sierra Leone.