The Guarded Secret
Female Genital Mutilation is practiced by the Dwoodi Bohra in India – a Shia Muslim sect originating from Yemen, which settled in India in the 16th century.  The community is mostly located in Maharastra and Gujarat. Those residing outside India are primarily found in Pakistan and Africa. As a sect, the Bohras consider themselves a sub-sect of the Ismaili Shia Muslims and are estimated to number two million the world over. The most common explanation for the Dwoodi practicing FGM refers to the waves of migration of members of the sect through Africa. On the other hand, FGM is quite common in Yemen, which seems a more obvious – but not "African" – explantion.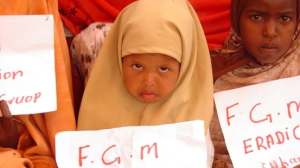 Already in 1991, Rehana Ghadially (a retired IT professor) wrote about female genital mutilation (FGM) happening in India in a paper titled "all for Izzat", where she examined the prevalence of the practice and its justification. Ghadially interviewed around 50 women, and 2 Mullanis (women who have semi-religious standing) and Dais (midwives). The main reasoning behind FGM for the interviewees was to follow the Shariat, and secondly to control the girls' sexuality. Such operations usually take place in the Mullanis house, and those who practice it are given permission from the clergy of Dwoodi Bohra sect.
The practice seems to be also common within the Bohra community in Pakistan, Dr Shershah Syed, an obstetrician-gynecologist and opponent of the practice, said: "In Pakistan it is not done very invasively, and now with growing awareness, they are doing it merely symbolically!"
This may be or not be the case, for India Ghadially's interviews showed that the procedure was anything but symbolic. The mutilation was usually performed with a razor, and the perpetrators often used abeer or kapurkanchi powder mixed with silk thread ashes to put over the clitoris after cutting takes place for its cooling effect and for its adhesive value. She lists many health complaints due to the practice based on a conversation with a Bohra doctor, such as severe bleeding, tetanus, infections and some cases of frigidity.
The practice has long been kept hidden; Rehana Ghadially recounts,"The girl's circumcision has been kept an absolute secret not only from outsides but also from the men of the community".
Yet, in November 11, 2011, a petition broke the silence concerning FGM within the Dwoodi Bohra community in India. A woman named Tasleem, who refused to enclose more information about herself, addressed the religious leader or Dai Al Mutlaq, H.H Dr.Syedna, to ban the practice among the Bohra Muslim communities. In her petition, Tasleem states, "Female circumcision is Not Islamic, it is an African ritual which only the Bohra follow in the subcontinent". Moreover, she articulates, "it is terribly unfair and painful and reinforces the stereotype that Islam doesn't give equal rights to women.
Bohra reformist and Scholar Asghar Ali Engineer says: "In big cities like Bombay, it is done in hospitals right after birth, and in smaller towns it is done around the age of six". He adds, "It would be difficult to ascertain the scale as it is a very hush-hush affair".
Breaking the Silence
Tasleem's petition has echoed widely within the Dwoodi Bohra community and human rights activists in India. There seem to be more women who are ready to talk about it and eventually join efforts to ban it. While many are calling to take this issue to court to criminalize it, Shabnam Hashmi  (an activist) who works for the minority is not so optimistic about passing a law at the near or far future. She suggests that more awareness raising within the community is needed. Tasleem who launched the petition believed the clergy must ban FGM for it to take effect, and she tried to win the late Bohra High Priest Dr Syedna Mohammad Burhanuddin to take a clear stance on FGM.
However, this effort has been staled. Burhanuddin's spokesman, Qureshi Raghib, ruled out any change, stating: "I have heard about the online campaign but Bohra women should understand that our religion advocates the procedure and they should follow it without any argument."
Syedna Burhanuddin passed away in January 2014 and a bitter succession battle has ensued between Mufaddal Saifuddin and Khuzaima Qutbuddin for leadership of the Dawoodi Bohras which has still not been resolved.
People in the Bohra Dawodi community are already questioning the practice, and many are questioning its relation to Islam. According to activists, a growing number of families are not having their daughters undergo the operation, yet the social cost for them is still high with people being shunned in the community. Tabassum Murtaza (A Dwoodi Bohra community member) says, "My mother-in-law said there was no room for religious disobedience and we should move out if we cannot respect the custom." While Asghar Ali Engineer took a clear stance: "I prevented my wife from getting our daughters circumcised but in many cases even fathers are not aware of the pain their daughters experience".
The silence has been broken, and the guarded secret has been exposed to the public, numerous members of the Bohra community are spreading awareness and knowledge about the practice, and though it is still early, they seem to be very determined to put an end to it!
(last updated 2015 – for more in-depth information check Sahiyo)
---
Further Readings:
Sahiyo – Bohra Group and newsplatform fighting FGM/C in India and Asia
She suffered circumcision in the name of religion, The Times of India, 10.12.2015
In Historic Protest, 17 Women Fight against Female Genital Mutilation in India, Vagabomb, 7.12.2015
In Australia, three Dawoodi Bohra face supreme court trials for circumcising their daughters, Scroll.in, 17.9.2015
Nigeria bans Female Genital Mutilation. Shouldn't India follow suit, Diva, 16.9.2015
Female Genital Mutilation: India's well kept secret, The Quint, 10.4.2015
Female Genital Mutilation: A First-Person Account Of The Shockingly Under-Reported Indian Reality. Interview with Aarefa Johari, Homegrown, 12.5. 2015
Ban this barbarous practice, by Rasheeda Bhagat; in: The Hindu Business Line; 28.7.2014
Announcement of the film Pinch of Skin by Piya Goswami, 13.8.2013
NDI student's film on female genital mutilation; in: The Times of India, 31. May 2013
Spare the Blade, by Debarati Mukherjee; in: Deutsche Welle, Women talk Online, 7.2.2013
Female genital mutilation: Many Pakistani women's painful secret, by Fahrahnaz Zahidi; in: The Express Tribune Blogs, 6.2.2013
Female genital mutilation: An open secret in India, by Pinak Pani Datta; in: Youth ki Awaaz, 17.4.2012
Pakistan-India: Women expose secret genital cutting rite, Inter Press Service, 29.1.2012
Female circumcision anger aired in India; in: News24, 25.4.2012
Anonymous Blog Entry on the Blog "Break the silence", 2011
All for Izzat – the practice of female circumcision among Bohra Muslims, by Rehana Ghadially, 1991