9.1.2016. By Hannah Wettig. Women from Malaysia, Thailand, India and Singapore joined on Thursday in Singapore to present their perspectives on FGM/C in their countries and discuss ways to eliminate the practice. It is the first time that such a meeting took place in Singapore and even in South East Asia as a whole, assumes Vivienne Wee, a founding member of the Singaporean women's organization Aware. The Singaporean feminist organization organized the conference together with WADI as part of WADI's Stop FGM in the Middle East & Asia campaign.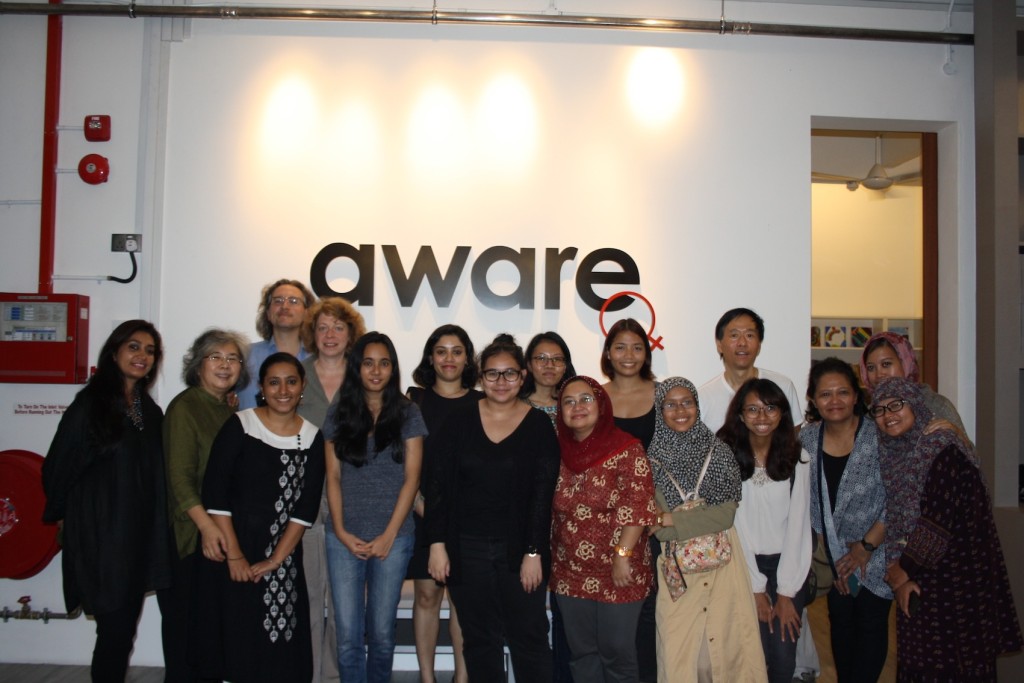 Female Genital Mutilation/Cutting (FGM/C) has not been a topic for us, says Vivienne Wee, a founding member of the Singaporean women's organization Aware. It is known that it is prevalent among the Malay community and other Muslim communities in Singapore. But to what extend and how severely girls are cut is not known. There are no studies, yet. Similarly, no studies exist for Thailand, India or other countries in the region like Sri Lanka where FGM is known to be practiced.
To overcome this lack of information the meeting included a training on how to conduct surveys on FGM. Stop FGM Middle East campaigner Hannah Wettig presented the new Survey Tool Kit developed by Wadi with the support of the Wallace Global Fund.
A first survey has been started in Singapore. Activists suspect that little is cut if at all. Common in the region are practiced like nicking, pricking and scratching of the skin above the clitoris as Professor Maznah Dahlui reports in her presentation. She is one of the most renown experts on FGM/C in Malaysia. In a survey she conducted only 22,2% of mothers who had their daughter "circumcised" reported that the tip of the clitoris had been cut, 33,3% reported the skin had been scratched, others called it a pricking or nicking.
While in Malaysia still most girls are brought to a traditional midwife (69%), in Singapore it can be assumed that all "circumcisions" are undertaken by professional medical personelle because traditional midwifery is illegal.
The Singaporean feminists from Aware are particularly concerned with the compromising of medical professions. Singapore is a secular state, yet an operation is carried out for religious and non-medical reasons. In all of South-East Asia the practice is viewed as a religious need. In Indonesia and Malaysia the Muslim bodies have called it compulsory. Such a statement was also released by the Muslim Council in Singapore but is taken down from their website now, Filzah Sumartono from Aware explains. The issue is still strongly tabooed. Such a practice does not seem to fit to Singapore's modern image. However, the government does not interfere in the business of the religious communities, explains Filzah. Also feminists are afraid that discussing it might alert the fundamentalists.
In Southern Thailand, the question is not a concern of women's organizations, says Huda Longdaewa. There are more pressing issues like the repression of Muslims and the violent conflict in the district of Patani whose people are demanding independence and stricter Sharia rules. The two participants of Thailand believe the type of FGM/C practiced in their country is not causing any problems. However, the filmmaker and WADI associate John Chua who has just visited Patani, reports how he spoke with a midwife who admitted to still practice female circumcision even though her license has been revoked because she is nearly blind.
The Indian group Sahiyo (meaning "friends") find much stronger words against FGM. "It is like a sexual assault", says Areefa Johari who has spoken out publicly as a victim of FGM/C. There is also the fear of being expelled from the community. The Dawoodi Bohra, a small well-to-do community, are not traditional or fundamentalist Muslims. On the contrary, they are in many aspects modern and cosmopolitan. Female circumcision seems to be a marker: "If you are not cut, you are not Bohra", explains Insia Dariwala, who was saved from being cut because of a catholic mother but feels that she is not accepted in the community.
Here are some thoughts by a participant about the conference: "Let's talk about Sunat Perempuan"