Home » Posts tagged 'conference'
Tag Archives:
conference

9.1.2016. By Hannah Wettig. Women from Malaysia, Thailand, India and Singapore joined on Thursday in Singapore to present their perspectives on FGM/C in their countries and discuss ways to eliminate the practice. It is the first time that such a meeting took place in Singapore and even in South East Asia as a whole, assumes Vivienne Wee, a founding member of the Singaporean women's organization Aware. The Singaporean feminist organization organized the conference together with WADI as part of WADI's Stop FGM in the Middle East & Asia campaign. (more…)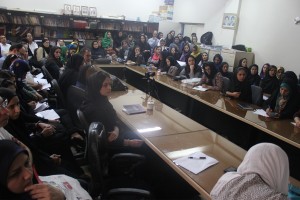 Under the title "Razor and Tradition" the Sociology Faculty of Social Sciences at Tehran University organized a conference about Female Genital Mutilation (FGM) in Iran on 11th of July 2015. This conference shed lights on all aspects of FGM in Iran. It was the first time that an official body connected to the government broke the silence about this issue in Iran and most of the official and important newspapers published speakers' speeches in full details. The psychoanalyst Dr Nazi Akbary, sociologist Dr Ahmad Bokharayee and Rayehe Mozafarian, writer of the book "Razor and Tradition" and campaigner of Stop FGM Iran, spoke at the conference. (more…)

Berlin, 30.4.2014. By WADI. The Second Middle East & Asia Conference on Female Genital Mutilation (FGM) by WADI and Hivos will take place from May 7th to May 10th in Istanbul.
The conference will tackle two myths about Female Genital Mutilation. It is commonly believed that FGM is mainly practiced in Africa and that it has no religious grounds. Both claims are not true.
FGM is practiced widely in Asia: In Middle Eastern countries such as Oman, the United Arab Emirates, Iraq and Iran, but also in Southeast Asia: in Malaysia, Indonesia, Singapore, India and the Maledives. (more…)