4.6.2014. By Hannah Wettig (Stop FGM Middle East). It was quite a surprise to us when an invitation to hold a presentation in Dubai on female genital mutilation (FGM) reached us. The government of the United Arab Emirates is not known for allowing controversial issues to be tackled. And this was no small presentation in the backroom of some organization, but a very publicized event in a theater with 500 seats. All presentations had to get an o.k. by the government.
So, I took the opportunity to see what's on in Dubai. The talk about FGM in the Middle East and Asia was part of the whole day event Bold Talks Woman. Female journalists, singers, comedians, charity founders and business women got up on stage and talked about their mission, how they came to do what they are doing and what obstacles they had to overcome.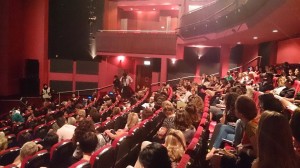 The Lebanese singer Rouba talked about beauty concepts in music industry: How she had to overcome the obstacle of not being as skinny as Haifa. Sofana Dahlan from Saudi Arabia told her story as a single mother having a career as a lawyer and founding a social enterprise. A sentence I very much liked: "We can't change the categories people put us in – I am a single mother, I can't change that – but we can change the way people think about these categories."
The psychologist Tara Wyne knew of studies which show that being generous makes us more happy than having fun, while the comedian Mina Liccione's mission was making people well through laughing. The war reporter Jenan Moussa gave us a glimpse of life inside Syria. Muna Gharib helped Syrian refugee children and Robert Karr and Kunal Scharma planted Mango trees for newborn girls in India making the birth of a daughter a happy event and fight the femizide.
All this was incredibly inspiring. As one of the speakers, I think it was Sofana, said afterwards: this was a real women empowering event like she had not experienced many before. I am still very taken by the courage of all these women.
So, I talked about FGM-Free villages in Iraqi Kurdistan, how we found evidence of FGM in many more countries in the Middle East and Asia and how the practice differed from country to country, e.g. that religion was a strong reason in some places but not in others, that in some countries educated people stopped mutilating their daughters while in other countries it was also common in the urban middle class. I also talked about FGM in the U.A.E.: That there was some evidence about it being practiced by some Emirati communities and that for sure it was done by immigrant communities – and should be made a topic just as in Europe.
The audience's reaction was amazing. So many women and men asked what they could do to stop this. Two women from Somalia and Sudan thanked me for raising this important topic. A man from Malaysia was shocked that it happened in his country and asked which organization in Malaysia was doing something against it: I told him about the Sisters in Islam.
One young woman, maybe a university student, told me that she knew it had happened in the generation of her mother, but that she was not cut and didn't know of any peers who were. I hope she contacts me to confirm this. From all we know this seems plausible: The percentage Wafa Marzouki found in her study was 34%, which may seem as a high number, however it is not as high if you know that FGM is usually practiced by all within one community. It is not something people consider an option.
If there were 34% mutilated among random Emiratis she asked it could mean that one third of those she asked came from communities where it is still practiced. It could also mean that it is fading to be practiced in the total society. Both would explain why the government is not shying away like others from making FGM a topic, but certainly also the fact that the U.A.E. despite much conservatism is making a great effort to advance women's rights.
Unfortunately, we don't know enough about FGM in the U.A.E. to make any assumptions, but I am hopeful that we will find out more and can start with more awareness raising.