Stop FGM Middle East, 3.2.2014. By Hannah Wettig

Oman is not on the map of countries where female genital mutilation is practiced. Neither the United Nations nor international NGOs have taken notice of FGM in the Gulf region – except Yemen. Yet, there are quite a number of reports about its existence in Oman and in most other countries on the Arabian Peninsula, some old from the 1960s, others are medical studies about cysts and other complications.
Stop FGM Middle East picked Oman for a first field trip to the Gulf region because of its relatively liberal political climate and the government's concern for women's rights.
Several Omani bloggers and journalists have written about FGM. The Ministry of Health mentioned it as a matter of concern. It was certainly a good sign that the issue was discussed openly – even if seldom.
From the different reports it was hard to assess how widespread the phenomenon really was. Some articles estimated a prevalence of 20% to 30%. Several authors assumed that FGM was mainly practiced in the Southern governorate of Dhofar with some pockets in the mountainous area in the North where a "pricking"-type was practiced. We were skeptical: Other reports hinted that FGM might be much more widespread than these authors believed.
The 'Five-Year Health Plan: 2006-2010' by the Ministry of Health mentioned a study on attitudes of adolescence in 2001 showing that 80 percent of young women support "female circumcision". It would seem completely unlikely that women support FGM if the practice is not common in their community, it can even be presumed that women supporting FGM have most probably undergone the procedure themselves. Thus, a high prevalence seemed likely.
It is probable that FGM is widespread all over the Gulf
Now, after we visited Oman and spoke with a variety of people – activists against FGM, hospital personal, a cutter, journalists and proponents of the practice – we can be certain that FGM is widespread in Oman – and that the results of this study on adolescent women are credible. And not only that: It is probable that FGM is widespread all over the Gulf: From hearsay many Omanis are convinced that it is also widely practiced in the United Arab Emirates and Kuwait.
But let's start with the evidence. We contacted several Omani bloggers and activists prior to our trip. Among them was Habiba Al Hinai. She had never written or said anything about FGM publicly, but she is the most outstanding activist of the Omani Arab spring. Habiba Al Hinai had spoken out against environmental hazards and corruption, she had demonstrated for teachers wage increases and fought for the right for women to pass down their nationality to her children – and she had spend many months in prison for her political engagement. If you want to know about Omani civil society you need to talk to Habiba. It was clear: We wanted to meet her, no matter whether she was interested in FGM or not.
As it turned out, she had not heard much about FGM in Oman, when we contacted her. But she was interested. After reading our website, she wanted to find out herself. She went out on the streets, into shopping malls, to Mc Donalds, in hospital wards and asked men and women about FGM. Prepared with a questionnaire, she interviewed 100 women and 100 men and conducted a study.
78% women in Muscat said they were "circumcised"
Her results were striking: 78 of the 100 women questioned reported to be "circumcised", another 10 said they didn't know if they were "circumcised". This high percentage was particularly notable considering that Habiba conducted all her interviews in the capital Muscat. Muscat is a modern, wealthy city of more than a million inhabitants and a very liberal climate compared to the rest of the country. Many of our contacts expressed surprise and even disbelief that FGM could be present to such an extend in the capital.
Despite this surprise about the results in Muscat it became clear in all meetings with different people that FGM was certainly a problem and perceived as one in many places. When addressing the topic at the Women's Association in Muscat or Salalah or in the hospital in Salalah, it was immediately understood what we were talking about. It turned out that many people were quite informed and concerned about FGM – even if they first showed some hesitance to talk about the issue.
An administration officer at the Sultan Qaboos hospital in Salalah first said, he knew not much, because it was something completely kept in the women's sphere. Yet, it turned out that he had read about it on the internet and was aware of it's health risks. Many answers Habiba Al Hinai got when doing her survey were similar: Especially men turned out to be well informed, not only about health hazards, but proponents of the practice also knew the exact religious reasoning pro circumcision.
In Salalah FGM is never questioned but also never explained
The picture when talking to women was more mixed. While two women at the Women's Association in Muscat, among them the president Nashia Al Kharusi, knew exactly about the problems FGM entails and completely understood the need to eradicate the practice, the women present at the Women's Association in Salalah had little information beyond their own experience. For the Salalah women, the practice seemed to be something they took for granted, as something never questioned but also never explained. One woman volunteered to organize a meeting for us with a local cutter. When we asked her, why the practice was carried out, she said, she wanted to find out as well and hoped that cutter would explain it.
In Al Hinai's study, few women expressed an informed opinion. Among the proponents some erred strikingly about the teachings of Islam when suggesting that uncircumcised women were not Muslim and should not be allowed to pray. This was a stark difference to male proponents who well knew the relevant hadiths and differentiated between recommendation and obligation according to Islamic scholars.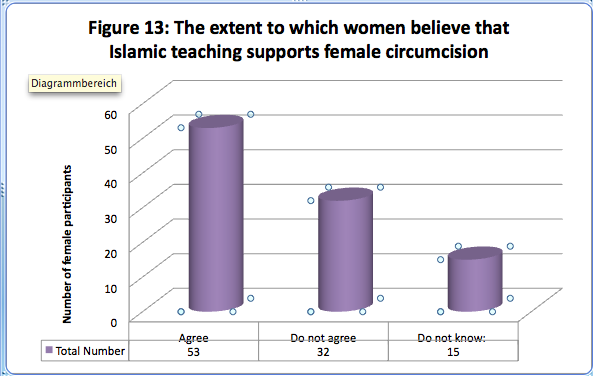 A religious practice in the North FGM, a tradition in the South
Besides this difference between males and females, there might also be a difference between North and South in reasoning. While religion seems to play an important role in the North as a justification for FGM, in Salalah Islam was not referred to. Everyone we talked to, including the circumciser said it was a tradition, nothing more.
The religious authority, the Mufti of Oman, is ambivalent on the issue of FGM. In a reply to a letter by Habiba Al Hinai, he wrote that it is not a must, but not a violation of women's rights either. Such response is in accordance with mainstream Sunni Islam, but it seems in contradiction with government policy which calls FGM a matter of concern.
The main difference between the North and the South is the way the practice is carried out and the social pressure with which it is afflicted.
The newborns clitoris is cut in the first days after birth
In the South, a girl is cut at a very early age. Several women told us it had to be done in the first two days after birth. This was indeed a shocking revelation: We have not heard of any other place where newborns are mutilated. It can be assumed that health risks such as infections are much higher right after birth. However, as the administration officer told us: No records of FGM related complications are kept in the hospital.
The procedure is carried out with a knife or scissors, the clitoris glans is removed but also other parts may be cut off. A circumciser said "too much" was cut "the old way" which was becoming less in the city, but was still widely practiced by the mountain people (Jabaleen). When customers ask her to cut "the old way" she has to sew the wound.
Thus, it can be assumed that women in Dhofar, the Southern province of Oman, are victim to FGM type 2 or even type 3. From different reactions and conversations it can be assumed that prevalence is nearly 100%. While it seemed unimaginable for the women at the Women's Association that "circumcision" was not done to girls, the administration officer in the hospital seemed to hope for a stop of the practice but said this would take a long time and much education.
The impression that FGM is the un-defiable norm in Salalah was also backed by the account of the blogger Susan Al Shahri. Al Shahri has written much against FGM on her blog and in the Muscat Daily. Meeting her in Salalah, we realized how brave her articles were. She has the support of her mother who is not of Omani origin, but society's disagreement with her activism seemed overwhelming. Friends support her quietly, but won't speak up.
Social pressure to mutilate daughters is high
What is even more worrisome: We heard accounts of aunts and cousins having babies circumcised against the will of the mother and don't flinch from stealing the baby when the mother is asleep.
This probably wouldn't happen in the North – from all we have heard. In Muscat, we had spoken with another blogger who writes against FGM on her blog "How to live like an Omani Princess". She and her husband affirmed that FGM is widely practiced in the remote mountain villages, but less in the valley towns. But even though it was still practiced in their community and by close relatives, she herself had not felt pressure to have her daughter circumcised. In the interviews Habiba Al Hinai conducted, mostly men said they struggled with social pressure. Some had found that their wife had gone ahead against their will, in another case the couple had agreed to not circumcise their daughter but keep it quiet.
It can be assumed that social pressure exists in the North but not as severe as in the South. One of the reasons for the strong social pressure in the South may be the very early age the procedure is carried out. If a socially expected practice can be carried out in a period of several years it is much easier to escape this expectation by postponing, evading questions or lying. If the expectation is that the procedure must be carried out right after the baby is born, the mother has little chance to evade pressure, she can only openly defy the expectations.
Also the procedure seems much milder in the North. The blogger had heard from relatives that a hot needle is used in the procedure, her husband said it was a nail clipper. Both may be true and there may exist other forms as well in the North, considering that Oman is a religiously and ethnically heterogeneous society.
Studies are needed
Despite the high prevalence in the capital region and close to 100 percent in Dhofar, there seem to exist also pockets within society where people have not come across FGM. Habiba Al Hinai was not aware that FGM was such a serious problem in Oman before she did her study. A journalist we met from the Muscat Daily also said, he had been surprised when he first did research on it. At the Women's Association, the president Nashia Al Kharusi and the municipal council member Anisa Salah Said Al Raisi both said they had never heard of it being practiced by anyone they know.
There is a general awareness that FGM exists. But in many cases people pointed to the regions bordering the United Arab Emirates and the South, expressing the believe that it was not a problem in the capital or in total Oman. Further studies will be needed to back the uncomfortable assumption that it is indeed a widespread phenomenon and not a problem of few communities.