15.7.2015. By Hannah Wettig
Thanks to Orchid Project I was able to present the campaign against Female Genital Mutilation (FGM) in Iraqi Kurdistan and Asia at the side event of the conference on Financing for Development (FFD) in Addis Ababa. The panel on "Ending Female Genital Cutting" on Monday morning brought together people of quite different experiences. While Sister Fa reported how she supports education about FGM in her home country Senegal with money she collects herself, Domtila Chesang spoke about the village where she is from in Kenia. She decided to become an Anti-FGM activist when she saw the mutilation of her cousin and was terrified. Without support of her family she was still able to get an education at a near-by boarding school and is now happy to be supported by a broad coalition against FGM in Africa. This broad coalition was represented by Susan Bissell from Unicef who was proud to talk about the successes in Africa in the last couple years. David Hallam, director for international relations at the U.K. Department for International Development (DFID) said he wished they weren't the biggest donor, because others should invest lots too, but he also mentioned Norway's large investment.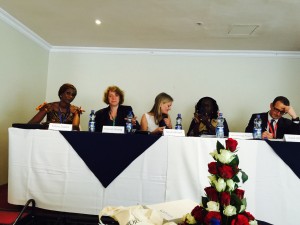 My topic was the campaign against FGM in Iraqi Kurdistan emphasizing the importance of a democratic process. In reference to other Asian countries where FGM is prevalent I also stressed the necessity of data which had brought a break through for us in Iraq and which is still lacking in many Asian countries.
Curiously, no one in the audience asked one question about Asia even though there was plenty of time for discussion. Neither did anyone ask or comment on my claim that a democratic process was a key to success. Instead the role of grass root activists and CSOs was stressed again and again. Also I had mentioned CSOs, but made clear that CSOs are only a good starting point while parliament and a democratic process were essential for broad support – after all CSOs are not a legitimate representation of society neither are grass root activists.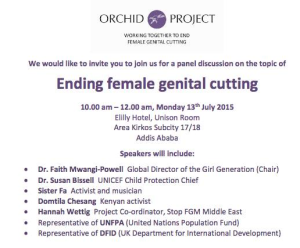 I guess there is an easy answer. In Africa people are most interested in Africa and likewise people don't care how important democratic processes are, if they think they can't achieve them anyhow. Well, we could have discussed how to have basic democracy in lack of a democratic system though. Maybe there are other reasons as well. I have noticed in similar settings that people confuse CSOs with democracy – so maybe all those stressing the importance of grass root and CSOs believed they were talking about democracy?
The most telling comment came from one man in the audience. Picking up the Asia map of Orchid Project he complained: You write here that there are 27 countries in Africa where FGM is prevalent, but there are 29 countries in Africa.
The thing is: Where Orchid Project refers to 27 countries in Africa they are referring to the map of the UN which shows a prevalence of FGM in 27 countries in Africa plus Yemen and Iraq – and yes, Orchid Project does not mentioned that the reference is the UN. But hey: Their map shows Asia. It shows that FGM is happening in 14 countries in Asia. The UN map shows only 2 countries in Asia.
So we are talking about women from 12 countries in Asia who are forgotten on this official map. But the only comment we get on this is that two countries in Africa are forgotten. Fine, talk to the UN then! I never read any articles about them forgetting two countries in Africa and I read everything I could find on this Unicef statistic. But don't tell people who are trying hard to bring a completely different problem on the agenda!
Here you can read th script of my lecture:
Last month the biggest Kurdish Daily Rudaw published on their front page an article about the campaign against female genital mutilation by WADI and Unicef in Iraqi Kurdistan with the title: "Kurdish FGM campaign seen as a global model."
I am here to talk about whether our campaign is a model, if it can work in other places.
Thank you very much to Orchid Project for making this possible.
One thing special about Iraqi Kurdistan and its approach to FGM is the role of government and parliament. When Rudaw published that article, the Kurdish Regional Government put this article on their first page on the web. The governement loves this campaign. They love that they can show how Iraqi Kurdistan, one of the few democracies in the region, is on the forefront of women's rights.
Of course, it wasn't always like this. When you address FGM in a country where it is a tradition you are going to meet resistance, strong resistance. And this is even more true in a country where no one talked about FGM before, where there is no reliable evidence yet, no studies, no UN statements.
This is the case in most countries in Asia where FGM is prevalent. FGM is practiced in Yemen, in Oman, in the U.A.E., in Iraq, in Iran, in Pakistan, in India, in Sri Lanka, on the Maledives islands, in Singapore, in Malaysia, in Thailand, in Brunei and in Indonesia. Maybe even in more countries.
You have heard about Yemen, Iraq and Indonesia – and lately also Iran. If you haven't heard about the others, it is because there are no or only few studies and because the UN does not have them on their list.
This was the same for Iraq ten years ago. When WADI first found out that FGM was practiced in Iraqi Kurdistan, no one believed us. This was in 2004. The government, politicians but also international organizations and NGOs ignored our claim or even accused us of having a different agenda.
We published our first large-scale study in 2010 showing that 72% of women were cut. Before we had already gathered support from other civil society groups. We spoke with the women in parliament and got their support. The government was starting to feel that pressure and conducted their own study.
But it wasn't the government which took the lead then. It was parliament. Parliament drafted a law and passed it. This is a very important point. It was the first law in Iraqi Kurdistan drafted by parliament and not by the government. So there is a great sense that this is really by the people. There is also pride that democracy works in Kurdistan.
The democratic process and the strong role of civil society is the reason why the campaign gathered much support from different sectors, from people who don't care much about FGM, but who care about democracy.
After law No. 8 which outlaws domestic violence including FGM was passed, the government established a department for domestic violence. This has been incredibly helpful. Together with this department we are continuously training policemen, lawyers, judges and state attorneys.
The Ministry of Health supported us when we wanted to train midwifes. This is a sensitive issue concerning law implementation.
Traditional midwifes who cut the girls often can't read and write. They don't know about laws. It would be unjust to persecute them.
So this is what we do: We train midwifes on a curriculum developed together with the Health Ministry. This includes talking about FGM. In the end they get an official certificate and they have to sign – or give their fingerprint – that they know that FGM is illegal and that they won't do it anymore.
Our trainers tell them quite frankly: If we catch you we have your fingerprint and we will take you to court. So far, we had no reason to do that. And our trainers are convinced we won't have in the future: They understood the cause and they are real midwifes now, actually trained birth attendants.
Law implementation also includes monitoring courts. Together with the network of women CSOs we demanded from the government to find a good monitoring mechanism. And after some pressuring they agreed to something quite unique:
For every court case connected to domestic violence a committee is formed by a state attorney, a judge and one representative of the women CSO network. This committee has full access to files. After the end of the hearing the committee delivers its recommendation. The judge of the case does not need to listen to the recommendation, but in many cases he will.
In our last study, conducted only nine years after starting an awareness campaign in villages, the rate of FGM has dropped to 10-20 % among girls between 6-10 in those villages. Unicef found in a KAP survey (knowledge, attitudes and practices) that 70% of the population want FGM to stop and support the law. Also amazing: They have heard of the law.
What could be the reasons for this success?
We believe that it needs pressure from below and from outside. It is important for governments what the UN says. Also reports in international media or a word by a visiting foreign statesman or woman can change a government's stance. In Iraqi Kurdistan we had some luck with a Washington Post photographer and a former British prime minister.
Yet, what is even more important is the pressure from below. In Iraqi Kurdistan, this was something the majority in parliament demanded.
Campaigning against FGM is sometimes criticized as being a Western agenda. If you don't want things to change then this is a very easy point to make: You don't need to argue about health or sex life.
But if it becomes clear that the majority demands an end to FGM then this argument can't count anymore. People can change their traditions if they themselves take the decision to do so.