22.5.2015. Kurdistan Rasul listens to mothers whose daughters died after female genital mutilation was performed on them. She discusses with men who don't want to stop beating their wifes. And she stands up against Mullahs who call her names.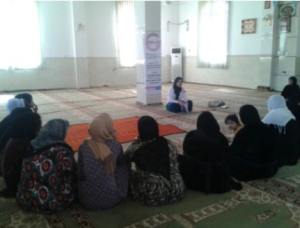 Since more than seven months Kurdistan Rasul is visiting villages in the region of Erbil to discuss with the villagers about domestic violence and the harms of female genital mutilation (FGM). She informs them about women's and children's rights and explains the implications of law No. 8, which outlaws domestic violence and FGM since 2011 in the Kurdish Region of Iraq.
Rasul is one of 12 mobile teamers who visit villages in Iraqi Kurdistan as part of a comprehensive campaign against FGM by WADI  and local partners like Gender Org in Erbil which is supported by UNICEF and Hivos..
Coming from the Iraqi-Kurdish capital Erbil, Rasul has worked for the Organization for Scientific Research on Gender and knew about women's plight in Kurdistan. Yet, she was often shocked by what she heard and saw in the villages with her own eyes. Just as in many places in the Middle East, the gap between urban and rural life is immense in Iraqi Kurdistan. While in the booming cities of the oil-rich country women are educated and live a modern life, villagers have to sustain a living working the fields in harsh climatic conditions with little modern tools. Elementary schooling has only been made available in recent years.
Mullah urinated on Free-FGM post
Rasul and her team mate Schaima were confronted with traditional ideas and prejudicies they didn't know existed in their country. In one village which had taken the decision to stop practicing FGM the Mullah came and tore down the post which declared the village to be FGM-free and urinated on it. In another village, they had to talk long hours with two men, father and son, convincing them to stop marrying more wives while beating the four each already had. After frequent visits these two men agreed to separate from their wives.
Yet, there were also good moments, e.g. when a girl first hid from them because she was scared that they had come to mutilate her genitals but then came out to kiss and hug them when she heard from their hiding spot how they were telling the older women to stop this practice. The happiest day, Rasul recounts, was when she visited the village of Big Biyokay Gawra where no one had ever heard of FGM.
This is Kudistan Rasul's account of her work in the last seven months as a mobile teamer:
Unfortunately
I saw Kurdish women exploited in all aspects. They are the victims of social traditions, culture and regulations set up and followed by men. Part of the women is taking part in consolidating these traditions and breeding generations accordingly without knowing it. Based on the various stories in tens of different villages and locations that I could see and hear, I came up with the conclusion that women are not only unaware of their rights but they are also convinced that they are there merely to serve men without having the right of self-determination, freedom as individuals or having their own beliefs. The rights that their families or husbands grant them are deemed great awards and more often they boast about it in front of other women villagers.
We need a great revolution so that women can reach their rights, yet the question is 'What revolution do we talk about if women themselves do not consider their rights fair?'
–      Girls still do not attend schools or if they do, they leave them after the sixth grade due to lack of intermediate or secondary schools.
A married woman without children is insulted daily as fruitless tree or mule
–      Any woman not giving birth agrees without any hesitation or worries to the second marriage of her husband. She has to bear everyday humiliation and insults made by her husband, the villagers or her women mates such as 'fruitless tree, sterile woman, and mule' besides many other bad names that helpless women have to carry. The term marriage itself means generating descendants to many villagers; therefore, women's minds go to giving birth to children as machines instead of thinking of the pleasure of marriage life. Hence from the very beginning, they are psychologically perplexed and excited about how many children they are going to bring to life; how many sons. Women pay from their lives, bodies and mentalities to bring up as many sons and kids as they can. They use even their sons and the children as safety gear to protect them from divorce or second wives sharing them their families. In addition to that, I could see men in the sessions always laughingly talking about their intentions of marrying second wives and in the presence of their wives. They were frightening the wives by marrying second Arab wives…
–      When visiting the villages and first seeing the anjuman-village committee, the first thing knocked our hearings was, 'for God's sake, do not stir up our women against us because they're very poor and quiet. They agree to everything and we live as we like. Do not aware them that they should have the same rights as men do'.
–      Another problem that we could feel and hear of was bed issues. We heard very sad stories of separations, second wives and many others that resulted from FGM.
Girls who fall in love with a boy must marry old or poor man
–      On the other hand, children were very violently dealt with and bred. FGM is the first step of violence towards the young little girls. Then, at the age of 7-8 they are sent to the agricultural fields for hard work and herding. Their bodies and mentalities are baked by the heat of the summers and chilled by the cold winters. When they have some little time and energy left to play and have fun, they are reproached by the adults that they have grown up and their time for marriage has come. At the age of 13, they are married to someone in the same tribe on condition that she had not fallen in love with him before. If they find out that a girl had fallen in love with someone, they not only do not marry her to him but they would quickly marry her to someone older than her or very poor or somehow disabled as a punishment for her. Families do want to marry their daughters as quickly as possible so that the latter do not bring them shame according to their allegations. If the community knows that a girl is in love with a boy, they refrain from marrying her to their sons. Thus, it often happens that a girl who befriends someone becomes a lesson for her and others forever. She regrets and spends the rest of her life desperate in a way that other girls stop thinking of falling in love with anyone.
"How can I leave them in that misery?"
–      Whenever I have a look at villages from a distance, I am deceived by the calm landscape of herding and farming. I assume the villagers are leading very happy lives but when I am in direct contact with them and listen to their sad stories, I ask myself, "How can I leave them in that misery? How can I be at ease and sleep the night and they suffer so much?" As an excuses I then tell myself: What can we do for other more than what we are doing? What could be done if this project had not been there? Then, we would have not been aware of their tragic stories. At least we are there to relay their cries and work for them. There may be others who may decrease their sufferings a little.
(by Hannah Wettig and Abdullah Sabir)
Read more about Kurdistan Rasul's work: Paying a visit to a Mullah who promotes FGM