15.9,2014. By Stop FGM Middle East. Only ten years ago, female genital mutilation (FGM) in Iraq was a non-topic. Outside Iraq hardly anybody had heard of it, in the country itself it was well hidden within communities. Nine years ago, WADI started a comprehensive campaign against the practice in the Kurdish region of Iraq with unprecendented success. Today, the vast majority of people know of the harmful effects of FGM and want the practice to stop as a new study shows. Mutilation rates have dropped significantly in this very short time period. This gives hope that FGM can be eradicated in the Middle East and Asia within one generation if campaigns are launched.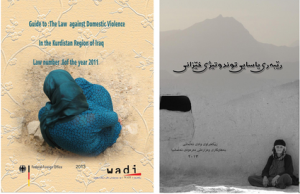 For the first time, a "knowledge, attitudes and practices (KAP)-survey was conducted in the Kurdistan Region of Iraq by Heartland Alliance commissioned by Unicef. 827 households in Suleymania and Erbil governerates were questioned, including Garmyan as a sub-district – Garmyan being the region with the previously highest FGM rates of close to 100%. According to the survey which was released last week, 58,5% of women reported to be mutilated while only 29% of women with daughters reporterted that their daughters were mutilated.
Acceptance of FGM which was only 10 years ago not contested is very low today with only 9,7% of women supporting FGM. 72,3 of all respondents (men and women) said they don't support FGM and 67,5% believed FGM should be eradicated.
Such high rates of diagreement with the practice are rare in international comparision. According to the statistical overview of FGM which was released by Unicef in 2013, only Burkina Faso has similar low rates of support among those countries with high or moderately high mutilation rates in Africa. Other support rates stand between 31% in Ehtiopia and 73% in Mali. In Burkina Faso many years of campaigning have helped to reduce support, while campaigning efforts in Mali may not have been as thourough. But also in Egypt which has seen campaigns since the 1980s support for FGM was still high with 62% in a survey from 2008.
The very low support rates in Iraq are giving hope that FGM can indeed be eradicated within a generation. This was expressed by Frances Guy, UN Women representative in Iraq, on the press conference where the KAP survey was released: "In Kurdistan we have a chance to end this practice within a generation. Let's do it."
Wadi's campaign incooperates many different elements: A free FGM-village programm, lectures in schools, police and midwife trainings, a hotline, TV-spots and media campaign. Therefore, it was possible to reach large parts of society. 64% of respondents in the KAP survey are aware of the campaign. 80% know about the mutilation resulting in reduced sexual satisfaction and 50% know of psychological problems such as depression. Interestingly less than one third is aware about medical problems like cysts and abscesses.
A keystone was from the beginning lobbying parliament to ban FGM. Such a law was passed in 2011. But efforts didn't stop there. In the year after the law was passed, government institutions were won to actively support the campaign against FGM. Today, 57,5% of respondents know about the law which prohibits domestic violence explicitly naming FGM as one form.
Another essential part of the campaign is the continued support of village mayors and clerics. Thus, it was indeed a concerted effort of many different players. As Dr. Marzio Babille, UNICEF Iraq Representative, said:  "All Iraqis should have pride in the declines in FGM practices in the region and continue the remarkable work to achieve its complete elimination."
It should be looked at why the Iraqi campaign prooved to be significantly more successful than similar campaigns in Africa. Reasons may be found also in the make-up of society, in literacy rates, reasons for the practice and the role of religion.
A great challenge also in Iraq remains finding effective strategies to get the message out to people with low educational background. The study shows that 57% of those who had their daughters mutilated could not read and write. However, as literacy rates are relativly high among the younger generation in the Middle East and Asia, there is hope that FGM can be eradicated within one generation once campaigns take roots in countries like Oman, Iran, Pakistan, Malaysia and Indonesia.