Home » Posts tagged 'Sunna'
Tag Archives:
Sunna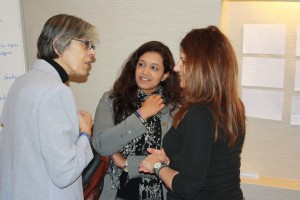 16.5.2014. By Stop FGM Middle East.
On May 7th to 10th the Second Middle East & Asia Conference on Female Genital Mutilation (FGM) was held in Istanbul where more than thirty activists and researchers from Iraq, Egypt, Iran, Oman, Saudi Arabia, Malaysia, Indonesia and India met as well as representatives from UNICEF Iraq, Orchid Project (England) and Terre des Femmes (Germany). It was the second such conference organized by the German-Iraqi NGOs WADI and the Dutch NGO Hivos.
For the longest time FGM was regarded as an African problem, based on the African continent with some prevalence in neighboring countries like Yemen. This mantra was overcome only recently when WADI strated raising conscious, that FGM is also widespread in a Middle Eastern country like Iraq. In January 2012, the first conference on FGM in the Middle East was held in Beirut. In the last two years the STOP FGM Middle East Project by WADI and Hivos collected further evidence, that countries like Oman, Malaysia and Indonesia have a significant high prevalence rate of FGM. Therefore, this second conference widened the scope from the Middle East to South East Asia. (more…)
By Stop FGM Middle East. 21.1.2014.
The Omani human rights activist Habiba Al Hinai send the Grand Mufti of Oman Ahmed bin Hamad Al Khalili an inquiry about the stance of Islam towards FGM. The Mufti of Oman replied in a letter in early December 2013:
Circumcision  is allowed in Sunnah, and none of the old Ulama (religious legal scholars) have said it was "hated", but they have disagreed if its a "must" or a preferable sunnah to do, or allowed to do. The confusion was based on different hadiths by the prophet, and whether to consider these  hadiths as true and correct. They (the hadith) never mount up that it is a must, and it was always mentioned in relation to male circumcisions.
Even though its not an operation you must perform on women, we can't describe it as a crime against women or as a violation of women's rights. What is referred  to as FGM is not the practise that the Sunnah talked about. Circumcision is simple and clear to cut a piece of the clitoris without causing any damage, every thing that is not this shouldn't be called circumcision.
Therefor what ever the WHO described as circumcision is not accurate as these are bad  practises of those unable to perform proper circumcision.
Therefore, circumcision is not allowed by sharia if it causes damages, this is a rule: to damage and no damager, and if it was medically proven by well trusted doctors that circumcising women will cause damage, it should be banned based on the no harm rule of the sharia.